Your free copy of How to Create Your Own Trading Journal in 2020 is on its way to your inbox – just download the PDF using the link in the email. Alternatively, you can

download it here.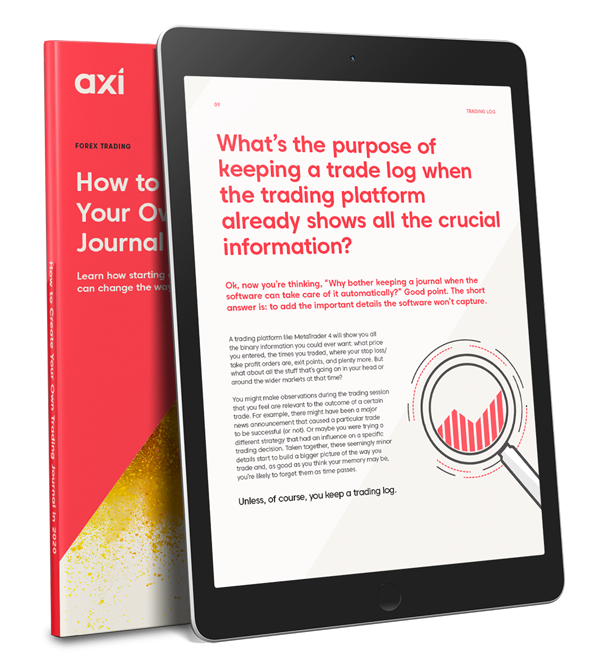 PsyQuation is one of the most powerful trading analytics platforms for retail traders. By harnessing artificial intelligence and machine learning it analyses your unique trading behaviour and makes suggestions to improve your trading and performance.
PsyQuation is FREE for all AxiTrader clients



Get tips and insights from some of the best trading minds by joining the London Stock Exchange accredited Knightsbridge Trading Academy for a series of educational workshops.
Education Centre
Want to learn more? Watch our FREE educational videos and learn the basics of forex trading.
Autochartist
Use Autochartist to automatically scan markets for trading opportunities tailored to you
Kick start your trading journey
Open a free AxiTrader account to enjoy:
Kick start your trading journey
Open a free AxiTrader account to enjoy:
Applicable Disclaimers and Disclosures
Clients receiving services in Australia: Axi is a business name of AxiCorp Financial Services Pty Ltd (ACN 127 606 348 and NZBN 9429042567608), AFSL 318232 and DFSA F003742. CFDs are complex instruments and come with a high risk of losing substantially more than your initial investment rapidly due to leverage. You should consider whether you understand how CFDs work and whether you can afford to take the high level of risk to your capital. Investing in over-the-counter derivatives carries significant risks and is not suitable for all investors. When acquiring our derivative products you have no entitlement, right or obligation to the underlying financial asset. AxiCorp is not a financial adviser and all services are provided on an execution only basis. Information is of a general nature only and does not consider your financial objectives or personal circumstances. AU Privacy Policy
Clients receiving services in UK: Axi UK is a trading name of AxiCorp Limited registered in England and Wales under number 06378544, FCA 509746. CFDs are complex instruments and come with a high risk of losing money rapidly due to leverage. 72.6% of retail investor accounts lose money when trading CFDs with this provider. You should consider whether you understand how CFDs work and whether you can afford to take the high risk of losing your money. When acquiring our derivative products you have no entitlement, right or obligation to the underlying financial asset. AxiCorp is not a financial adviser and all services are provided on an execution only basis. UK Privacy Policy
Clients receiving services in Saint Vincent and Grenadines: Axi is a trading name of AxiTrader Limited (Axi), which is incorporated in St Vincent and the Grenadines, number 25417 BC 2019 by the Registrar of International Business Companies, and registered by the Financial Services Authority, and whose address is Suite 305, Griffith Corporate Centre, PO Box 1510, Beachmont Kingstown, St Vincent and the Grenadines. Axi is 100% owned by AxiCorp Financial Services Pty Ltd, a company incorporated in Australia and New Zealand (ACN 127 606 348 and NZBN 9429042567608). Over-the-counter derivatives are complex instruments and come with a high risk of losing substantially more than your initial investment rapidly due to leverage. You should consider whether you understand how over-the-counter derivatives work and whether you can afford to take the high level of risk to your capital. Investing in over-the-counter derivatives carries significant risks and is not suitable for all investors. When acquiring our derivative products you have no entitlement, right or obligation to the underlying financial asset. Axi is not a financial adviser and all services are provided on an execution only basis. Information is of a general nature only and does not consider your financial objectives, needs or personal circumstances. SVG Privacy Policy
All clients: Important legal documents in relation to our products and services are available on our website at www.axi.com. You should read and understand these documents before applying for any AxiCorp products or services and obtain independent professional advice as necessary.
Cryptocurrencies like Bitcoin are extremely volatile and can move or jump in price with no apparent reason due to lack of liquidity and ad hoc news. There is little or no fundamental reasoning behind its pricing and as such trading CFDs in Bitcoin pose a significant risk to Retail Clients. While Axi only quotes Bitcoin during the week, it can trade over the weekend, meaning there could be a significant price change between Friday and Monday. It should only therefore be traded by those clients with sufficient experience to understand that they risk losing all their investment, or more, in a short period of time, and only a very small part of their portfolio should be used.