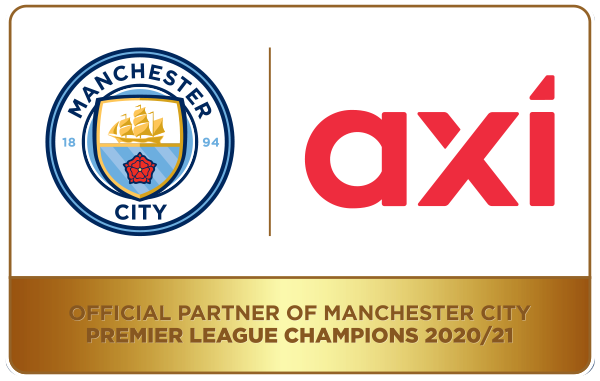 Bạn đang hướng tới mục tiêu!
Bạn đã tham gia cuộc thi của chúng tôi để giành được tác phẩm biểu đồ nghệ thuật phiên bản giới hạn của Manchester City và hai vé VIP cho trận thi đấu. Người chiến thắng sẽ được công bố vào 25 tháng 6 năm 2021, Axi chúc bạn may mắn.
Warning: Spread betting and CFD trading both carry a high level of risk to your capital with the possibility of losing more than your initial investment. These products may not be suitable for all investors, and are not available to individuals under the age of 18. Please ensure that you are fully aware of the risks involved and refer to our 
Risk Warning
. If necessary, seek independent financial advice. The 
Customer Agreement
 and 
Execution Policy
 available at 
www.axi.com/uk
 are important and should be reviewed prior to deciding whether to acquire, hold or dispose of Axi's products. Axi is a trading name of Axi Financial Services (UK) Limited which is registered in England and Wales under number 6050593. Axi Financial Services (UK) Limited is authorised and regulated by the Financial Conduct Authority – Firm Reference Number 466201. Our registered address is 1 Finsbury Market, London EC2A 2BN.
Axi is a trading name of AxiTrader Limited (Axi), which is incorporated in St Vincent and the Grenadines, number 25417 BC 2019 by the Registrar of International Business Companies, and registered by the Financial Services Authority, and whose address is Suite 305, Griffith Corporate Centre, PO Box 1510, Beachmont Kingstown, St Vincent and the Grenadines.
Axi is 100% owned by AxiCorp Financial Services Pty Ltd, a company incorporated in Australia (ACN 127 606 348). Over-the-counter derivatives are complex instruments and come with a high risk of losing substantially more than your initial investment rapidly due to leverage. You should consider whether you understand how over-the-counter derivatives work and whether you can afford to take the high level of risk to your capital. Investing in over-the-counter derivatives carries significant risks and is not suitable for all investors.
When acquiring our derivative products you have no entitlement, right or obligation to the underlying financial asset. Axi is not a financial adviser and all services are provided on an execution only basis. Information is of a general nature only and does not consider your financial objectives, needs or personal circumstances. Important legal documents in relation to our products and services are available on our website. You should read and understand these documents before applying for any Axi products or services and obtain independent professional advice as necessary.